Mission Statement
Bolt Power Washers offers a wide variety of cleaning services and packages.
We have over 17 years experience in the pressure washing industry. With that experience, Bolt Power Washers can provide our clients with the power washing services they need to make their homes, driveways, walkways, decks and exterior surfaces, shine. Our goal is to provide our customers with expert power washing capabilities coupled with a kind and caring staff that practices quality customer service.
Power Washing Services
1
Exterior House Wash
Thorough exterior home surface cleaning with the latest in power wash products and techniques.
3
Gutters & Downspouts
Bolt Power Washers can bring the original shine and luster back to your existing gutters and downspouts
2
Driveways & Walkways
Clean up your curb appeal with professional sidewalk and walkways cleaning done right.
4
Decks & Wood Surfaces
Bring out the original finish of your deck or wood suface with our power cleaning today.
Improve the quality of your home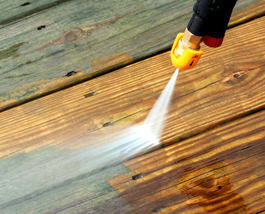 Soap and water is NOT the answer.
Soap and water unfortunately does not always do the trick. The job requires a unique blend of cleaning agents to cut through those tuff stains. We realize that the chemicals used in the power washing industry may be harmful to the environment. So, keeping that in mind, we strive to deliver a precise wash, solely targeting the problem areas. We take extra care in our clients property and we take extra care in the clean-up process when the job is complete.
Free Estimate
Call us today for a free estimate!
Call Bolt Power Washers today for a free at-home estimate. If you're looking to improve the look and aesthetic appeal of your home, siding, driveway, deck or walkways, a professional power cleaning can dramatically change the look of any surface. We specialize in a thorough washing technique to fully capture your surfaces original color and shine.
Contact us today for a quick and easy estimate.
Contact Us